If you haven't read Robin Bielman yet, you really need to. She writes really good contemporary romance books. Her latest one called Kissing the Maid of Honor is new and just in time for wedding season! Robin will be stopping by today, so if you have any questions for her, just leave them in the comments section below.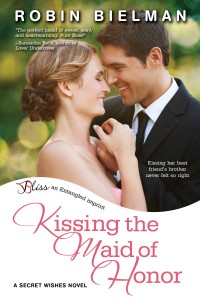 Official Summary:
Kissing her best friend's brother never felt so right…
Sela Sullivan is resolved to be the best maid of honor ever, even if it means tolerating the best man. Insufferable, too-handsome Luke Watters is not only the guy who humiliated her at a kissing booth in high school, but he also happens to be her best friend's older brother. Positive he's the same arrogant jock, Sela vows to focus on her duties and steer clear of the frustrating—and frustratingly tempting—Luke.
As a world-renowned extreme-sports photographer, Luke is used to undertaking life-risking adventures. But risking his heart for the beautiful Sela Sullivan, who clearly still hates him for his rejection all those years ago? He didn't see that coming. Sela inspires a passion he's never known, and the more time they spend together, the more he craves her. But can he prove to the maid of honor he's become a man of honor?
So Many Reads Review:
Robin Bielman has become an auto-read author for me. I know that with her books I will get a lot of emotion from her characters and a heartwarming story. The plot in Kissing the Maid of Honor is well constructed and the set-up of characters for more books in the series is done very well. Sela and Luke are characters the reader can relate to and support.  Sometimes I tend to pick a side – hero vs. heroine, but in this story I was really rooting for both them. The romance throughout the story was slow to build which made it even better when they did finally give in and go for it.
One of the things I like about Bliss books is that they are very clean romances.  There is implied intimacy, but no descriptions.  Thus, all the passion and love the characters show is done outside the bedroom and Robin shows this very well. There are just enough kisses, touches, looks, and words that draw you in as a reader to help you understand the deep feelings Luke and Sela have for one another. While I do like to read hot and steamy books I also like to balance those out with sweet books like Kissing the Maid of Honor.
There were many times throughout the story that I assumed a plot line was going to go a specific way, but it didn't.  I like to be surprised, even in contemporary romances when you know the hero is going to get the heroine and live happily ever after. The twists in this book were true to the characters of the story, so while I was surprised, it was not out of character for Luke or Sela to respond a certain way. In keeping true to characters, one aspect of the book that made the story feel more realistic, was when Vanessa worried that Luke and Sela getting together would equal unwanted drama for her wedding. I think every bride would feel like this even if they don't want to admit it.  Because, really, when you are the bride, it is YOUR day. You don't want unnecessary drama, so I thought that honesty from Vanessa brought some realism into a fictional story. As for the other characters, I enjoyed Shane (Sela's brother) and Erin (Luke's sister) a lot. Shane seems like a wild one and I look forward to reading about him in the next story.
It is hard to convey everything I liked about Kissing the Maid of Honor without giving away spoilers. You just need to read it for yourself and experience the laughter and tears that Luke and Sela go through in finding their happy ever after. If you are looking for a clean, classy, contemporary romance, I highly recommend you try Kissing the Maid of Honor!
Robin's Kissing the Maid of Honor Blog Tour starts next week and features a lot of awesome posts and prizes. Click on the link below to follow the tour! 
For those of you that are married, what was the highlight of your wedding day? For those that are not married, do you have any funny stories to share about things that happened at a wedding you attended?