Wendy S. Marcus is quickly becoming one of my favorite contemporary romance authors. Her books have the perfect amount of story and romance that has me speeding through them and wanting to run and kiss my husband.  Luckily, I just learned about Wendy a couple of months ago so I get to check out her back list of books to read!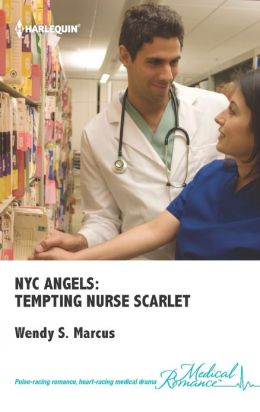 Official Summary:
Breaking all her rules…
Head nurse Scarlet Miller's take-no-prisoners attitude makes her a force to be reckoned with on the neo-natal ward, but no one has ever questioned her devotion to her patients. She thought her hidden vulnerability was impenetrable…but ER doc and struggling single dad Lewis Jackson ties her heart up in knots! Suddenly this tough-cookie nurse is wondering if Lewis and his troubled daughter might actually be her undoing…
So Many Reads Review:
As with Wendy's other books, the balance of story, medicine, and romance is done very well in Tempting Nurse Scarlet.  There is great character development, a smooth and easy to follow plot and just enough medical snippets to engage readers. There is great dialogue in Tempting Nurse Scarlet, as  Scarlet has an endless supply of sarcasm and quips that keeps Dr. Lewis Jackson on his toes and wondering how he could be off his game. He is used to charming any woman he wants.  Not this one.
I fell for this book so early with the introduction of Jessie and baby Joey. Children bring such a realism to books that I love. Lewis calls upon the help of Scarlet since she seems to be the only one that can get through to his moody thirteen year old daughter, Jessie. Scarlet is happy to help as she has always wanted a daughter and is a bit honored that Jessie thinks so highly of her.  Through Jessie, Lewis and Scarlet become friends and eventually a little more than that. Thought, it takes a few complications, including a preterm delivery of a baby girl that steals Scarlet's heart, Lewis and Scarlet realize they don't need to use Jessie as their go between.
Tempting Nurse Scarlet is an emotional read.  My heart would swell with happiness at one time and then break for Scarlet, Jessie, and Jackson the next.  I love it when books make me feel the same emotions as the characters.  Wendy is careful to spread the romance throughout the entire story and writes the intimate scenes so they are appropriate to the characters and story. I am picky about intimate scenes, so I like to mention when an author does a good job with them. If you are looking for a smart, sexy, heartwarming contemporary medical romance that is hard to put down, I highly recommend you try Tempting Nurse Scarlet!
How many of you are adopted or have adopted? If willing, I would love to hear your story!