I loved In Defense of the Queen by Michelle Diener. Seriously. I think this has been my favorite book of the series so far.  A lot of the reason was watching Parker struggle so much while his betrothed, Susanna, was imprisoned and he was helpless. I don't like to see people struggle, but the normally strong, calm, controlled Parker was out of sorts when he could not get Susanna freed easily. While Susanna didn't wish to be imprisoned she did what she always does – she stepped up and was strong for everyone else.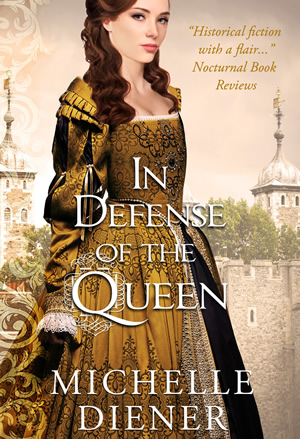 If you haven't read Michelle Diener yet, you must. Her stories are so smart and you will be captivated from the beginning with John and Susanna and the adventure they find themselves on, usually on behalf of the King or Queen. The romance in In Defense of the Queen is just lovely. This is the third book for John and Susanna and you can see their relationship grow stronger all the time. They are truly meant for and complement each other so well. You won't get the steamy, detailed love scenes in this story, but you still see the romance and passion between the two of them when Michelle writes the more intimate scenes. It is the kind that makes you swoon because it is so beautiful.
Reading about the same characters from previous books is one thing I love about a series. I felt like I was coming home to family while reading about not only John and Susanna but Harry, Peter Jack, Eric, etc.  We get to know a little about Susanna's brother, Lucas in this story and I am still not sure what to think of him yet. It is interesting how a family can be those not related by blood more than the ones who are our blood relatives. I grew quite fond of King Henry's son, Fitzroy and hope to see him in future stories.
One thing that is amazing to me about Michelle's writing is she seems to leave no detail left out.  They are all perfectly placed to set a scene or give us some insight to a character. For example, even while Susanna is in the heat of a dangerous chase on horseback she never fails to notice people from an artists eye. Also, the little descriptions of Parker and how he was reacting to Susanna in prison just melted my heart.  In Defense of the Queen is an smart book with well developed charters and a plot full of suspense, intrigue, deceit, loyalty, and love. I highly recommend it and I really hope you will take the time to read it.
* * * * *
About the Book:
Title: In Defense of the Queen (Susanna Horenbout and John Parker Series, #3)
Author: Michelle Diener
Release Date: August 1, 2013
Category: Historical Romance
Source: ARC received from Publisher via NetGalley

Official Summary:
An artist never betrays her patron . . . especially one of the world's most powerful kings.
Susanna Horenbout has learned this lesson from the cradle. But when she receives a letter from her father telling her to do just that, she faces a dilemma. Betray Henry VIII, or carry out the request of her father's employer, Margaret of Austria, and pass secret information to Henry's queen, Katherine of Aragon.
Caught between the machinations of her husband and her nephew, the Emperor Charles, Queen Katherine needs all the allies she can get. But what can Susanna really do to help her, and even if she does, will it be enough?
Susanna and her betrothed, Parker——one of Henry's most trusted courtiers——balance on the knife's edge of treason as they try to make sense of both international and domestic conspiracies. Sometimes, it's better the enemy you know . . .
* * * * *
What would you do if your spouse or significant other was wrongfully imprisoned?