When you decide to read Banquet of Lies by Michelle Diener, make sure you have cleared your calendar because it will consume you. Michelle Diener is one of the best story tellers. She could easily write in any genre and I would be captivated by her stories. Banquet of Lies is a historical fiction/romance but it I was so engrossed in the story I sometimes forgot that they couldn't pick up the phone and call someone rather than go looking for them.  I have not yet read The Emperor's Conspiracy, but Banquet of Lies is a follow up to that one with connected characters. I don't think you need to read them in order, but after reading about Lord Durnham and Lady Durnham in Banquet of Lies, I can't wait to go back and read it.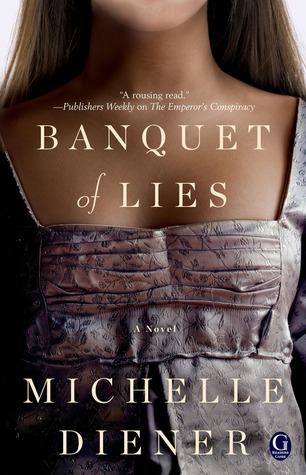 In Banquet of Lies the story opens with Giselle Barrington, often referred to as Gigi, witnessing her father's murder. She holds a very important document in which her father was killed and is now on the run knowing the killer (the shadow man she calls him) will be after her. She can't go to the authorities because she is not sure who she can trust. Instead, she hides out and pretends to be a cook at the house of Lord Aldridge (Jonathan) just a few down from hers so she can watch for the shadow man to come. Gigi thought posing as a cook would be a piece of cake, but boy was she wrong.
Michelle does a fantastic job developing Gigi and Jonathan. Gigi is incredible. Her toughness, her love for her father, friends and her country, for making sure those weaker than her are treated fairly, and for just being a good person. Jonathan isn't so bad himself, but Gigi stole the show in this story. I loved the way she interacted with the staff, even grumpy Mr. Edgars.
Banquet of Lies has the perfect blend of mystery and intrigue with a smattering of romance.  If you like historical fiction and are looking for story full of mystery and intrigue that will captivate your attention from beginning to end, I strongly recommend Banquet of Lies.
* * * * *
About the Book:
Title: Banquet of Lies
Author: Michelle Diener
Publisher: Gallery Books
Release Date: October 22, 2013
Category: Historical Fiction
Source: ARC received from Publisher via Edelweiss

Official Summary:
A SECRET TREATY AND A SECRET LIFE
REGENCY LONDON: Giselle Barrington is living a double life, juggling the duties of chef with those of spy-catcher. She must identify her father's savage killer before the shadowy man finds her and uncovers the explosive political document her father entrusted to her safekeeping.
Posing as a French cook in the home of Lord Aldridge, Giselle is surrounded by unlikely allies and vicious enemies. In the London streets where she once walked freely among polite society, she now hides in plain sight, learning the hard lessons of class distinction and negotiating the delicate balance between servant and master.
Lord Aldridge's insatiable curiosity about his mysterious new chef blurs the line between civic duty and outright desire. Carefully watching Giselle's every move, he undertakes a mission to figure out who she really is—and in the process, plunges her straight into the heart of danger when her only hope for survival was to remain invisible.